I Am Calm - Natural Crystal Energy Mist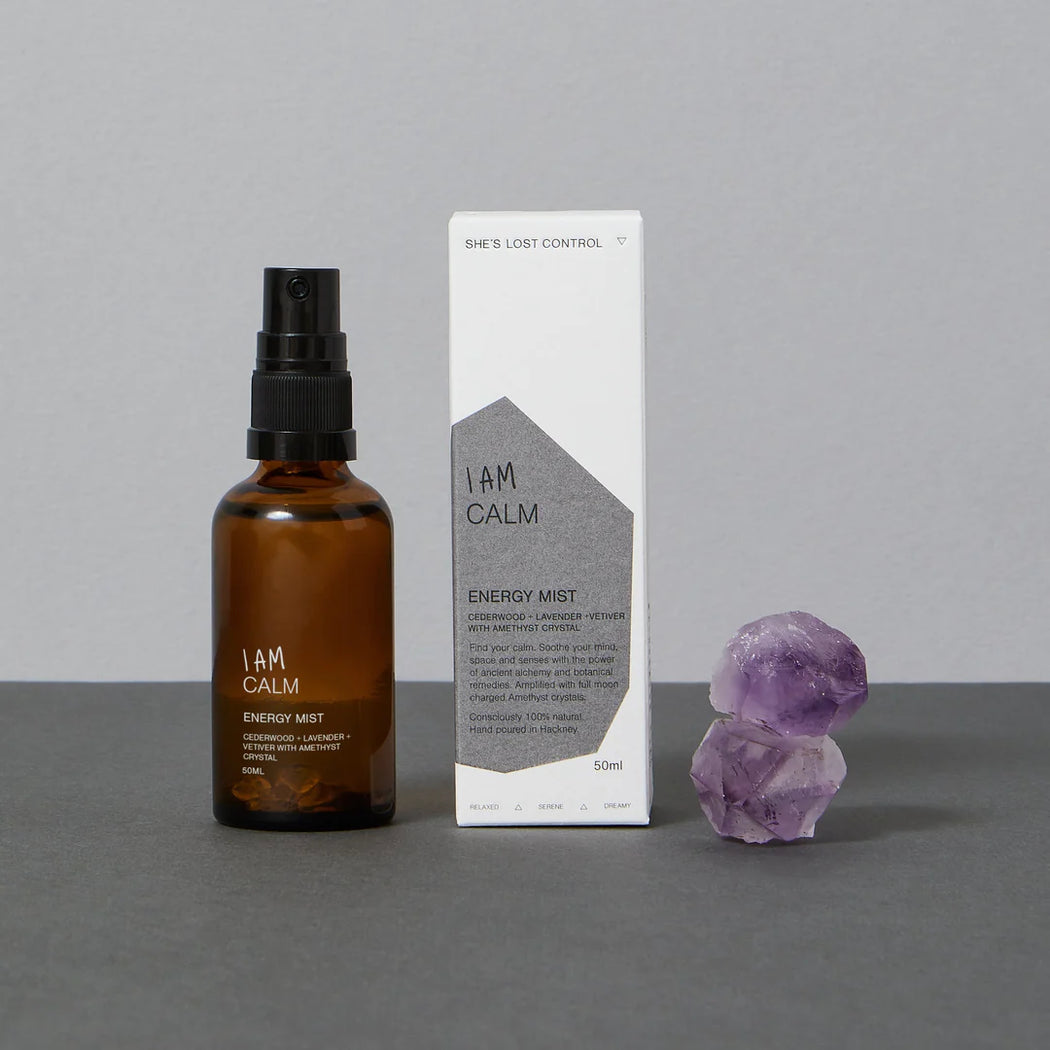 I Am Calm - Natural Crystal Energy Mist
Calm - Relax - Serene - Dreamy - Still - Meditive
Find your calm. Soothe your mind, space and senses with the power of ancient alchemy and botanical remedies. Amplified with full moon charged Amethyst crystals.
CEDARWOOD + LAVENDER + VETIVER
Consciously 100% natural. Sustainably sourced, vegan, cruelty free, and carefully blended using Mother Earth's essential oils. Rich in natural aromatherapy benefits and free from synthetic perfumes and additives that can disrupt the body's natural rhythms.
Consciously 100% natural. Hand poured in Hackney.

FRAGRANCE
Top - Spice, Clove
Heart - Lavender, Cedar, Patchouli
Base - Woody, Sandalwood, Vetiver
WEIGHT: 50ML
THE CRYSTAL



Contains responsibly sourced Amethyst crystal from Brazil, charged under the full moon. Amethyst is known for it's calming energy and helps to ease busy minds.
She's Lost Control proudly funds CrystalClear.life - a social enterprise that is paving the way for ethically sourced crystals. You can be confident that your Energy Mist has a higher purpose to impact positive change in the crystal industry.
Pssst... Did you know that crystals are used in technology every day? In our phone screens, computer chips, speakers... you name it. So it's no secret that crystals are master amplifiers. They transmit, conduct, store and shift energy, and that's why we use them in science. This isn't new info, we've been using them for thousands of years. If these gifts from Mother Earth are the brains behind so much technology, think of the impact they can have on our own energetic field.
THE RITUAL
Pause. Take a breath. Allow your mind to be in the present. Gently shake the bottle to mix the natural oils. Now spray your Energy Mist in your space, aura, or room and allow the natural aroma to cleanse, protect and rejuvenate. To prolong shelf life, keep in a cool place away from direct sunlight.
CAUTION
Not for use on the body. Avoid contact with eyes. In the event of contact with eyes, rinse immediately with water. May cause an allergic skin reaction. If skin irritation occurs wash with soap and water and seek medical advice. Keep out of reach of children, crystal chips may pose a choking hazard. May be harmful to aquatic life with long lasting effects..
INGREDIENTS
Distilled water, Cedrol, d-Limonene, Eucalyptol, alpha-Cedrene, alpha-Pinene, beta-Pinene, Eugenol, beta-Caryophyllene, cis-alpha-Santalol, beta-Cedrene, Camphene, Linalool (naturally occurring).